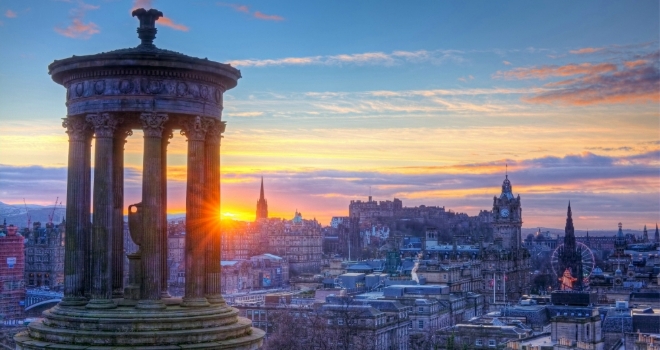 "The market in Scotland has noticeably slowed as we've gone into the summer yet it still shows some strong annual growth"
Scottish house prices have fallen for the second month in a row, down 0.7% in June, with transactions 11% lower in the first quarter of the year than 12 months before, according to the latest Your Move data.
Nevertheless, annual growth is still 4.4%, despite a third month in which the rate has slowed. At the end of June, the average price stood at £182,163, which was £7,759 up on twelve months earlier.
That means Scotland is still powering ahead of the rest of Britain, with prices in England and Wales in the year to June up just 1.7%. Only Northern Ireland (up 4.2% annually) comes close.
The slowdown in the last two months is reflected in developments in Edinburgh. Here average prices – still the highest in Scotland at £273,897 – have fallen for a second month in a row. Prices were down in June – albeit just by 1%.
This was offset to an extent by performance in Glasgow, where prices rose 1.1% to £158,367 – about £2,000 off its peak set in February.
Overall, however, the month was a tough one across Scotland – with prices falling in 22 of the 32 local authority areas. The largest drop in the month was in Dumfries and Galloway, where prices fell by 6.5%, with the average cost of detached homes reducing from £202k in May to £191k in June. Na h-Eileanan Siar, the cheapest area in Scotland, meanwhile, saw average prices fall 5.4% to £102,356, and East Renfrewshire, the second most expensive, saw a drop of 3.1% to £262,358.
In half of those that saw increases, though, there were new peak prices, with West Lothian, Argyll and Bute, Renfrewshire and Dundee City all setting new highs. Inverclyde (up 7.2%, the biggest monthly rise) and the Scottish borders (3.6%), particularly, also saw strong growth in the month.
It's also a much more positive story on an annual basis across Scotland. Only three areas (East Ayrshire, Perth and Kinross, and Aberdeen City) are showing a fall from 12 months ago, and a number continue to show strong growth: West Lothian (10.6%, driven by semi-detached homes) and Inverclyde (10.4%, with particular strength in the large Victorian and Edwardian properties in Kilmacolm) are also showing double-digit annual growth.
Edinburgh – which still accounts for a third of the annual increase in Scotland's house price on a weight-adjusted basis – remains up 8.3%; while Glasgow (accounting for another 7%) is up 3%.
Christine Campbell, Your Move managing director in Scotland, said: "The market in Scotland has noticeably slowed as we've gone into the summer yet it still shows some strong annual growth, and it's encouraging to see almost all areas showing positive performance."
Alan Penman, business development manager for Walker Fraser Steele, added: "Despite a slowdown, Edinburgh remains the foundation of the market in Scotland, showing a market with considerable resilience."